Healer is a trusted, doctor-developed medical cannabis brand founded to address the challenge of producing and selling safe, reliably dosable products and educating patients on how to best use them.
Healer's distinctive product formulations and educational material are based on the work of leading cannabis clinician, Dr. Dustin Sulak, D.O. who is internationally regarded as an expert and educator on medical cannabis and recognized as a pioneer of clinical applications.
A low-impairing formula that includes THC, the strongest pain-relieving component in cannabis, THCA for additional pain relief and anti-inflammatory effects. This formula provides powerful relief and is unlikely to cause impairment at doses below 20 drops, except in those patients very sensitive to THC. It is also a great less-impairing night formula option.
Available in:
100 mg | 300mg

This calming formula incorporates THC from specially selected and blended strains of cannabis with their sedating terpenes kept intact. This formula helps promote sleep by addressing anxiety, pain, restless limbs, nightmares and other symptoms that interfere with deep, restorative slumber. Can be combined with inhaled cannabis for trouble falling asleep.
Available in:
100 mg | 300mg

The perfect balance of THC and CBD plus CBDA and THCA, their acidic counterparts. This formula contains the widest entourage of cannabinoids available and is excellent for most symptoms. Also it's a beneficial daily supplement to help improve overall well being. Non-impairing (even in THC-sensitive individuals) unless used at very high doses (20-40 drops).
Available in:
100 mg | 300mg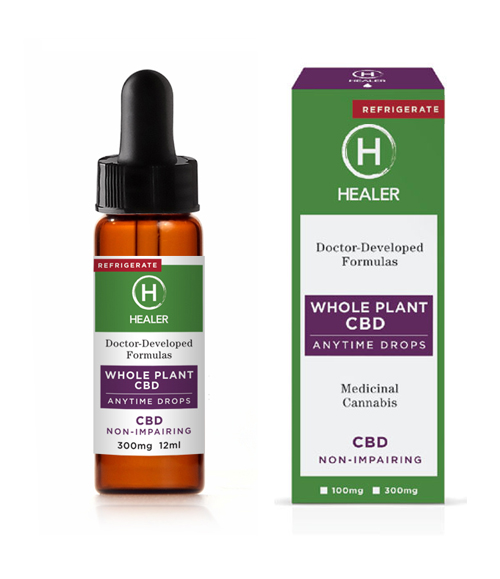 Generally regarded as superior to isolated CBD and hemp CBD for pain, inflammation and other chronic symptoms. This CBD-dominant formula contains very low amounts of THC and is non-impairing. Lower doses are awakening & stimulating, higher doses may be sedating. May be combined with other formulas to increase the CBD ratio and can be used as a partial antidote for THC overdose.
Available in:
100 mg | 300mg

want to learn more about Healer?